HONEYCOMB CORE MACHINING
Advanced Custom Manufacturing's familiarity with honeycomb and foam cores, adhesive core splicing /
stabilizing / septumizing, as well as final assembly foam / film adhesive bond requirements, allows our customer
to minimize fit-check and pre-fit times.
Advanced Custom Manufacturing can offer CORE machining, lay up and bonding for our customers. This is our CORE
competency and makes us a one stop shop for all of our customers bonded assembly needs.
Value-Added processing begins with honeycomb or foam core material. Operating in CAD/CAM and combined
with our staff's extensive composites manufacturing expertise, Advanced Custom Manufacturing machines/
forms, bonds and test the complete detailed assembly.
Precision handwork rout, trim and chamfer operations
CORE Programming, in-house tool design and fabrication
5-axis router and part machining
Oven processing
Advanced Custom Manufacturing has over 34 years of producing honeycomb core panels and bonded assemblies components for the industry's leading manufacturers. We are continually improving and provide a service with uncompromising integrity for our customers and vendors alike.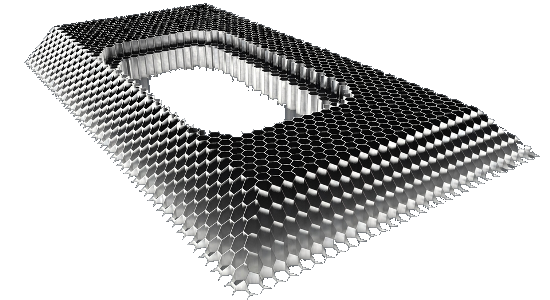 COMPLEX LAMINATES AND BONDED ASSEMBLIES
Our composite materials fabrication abilities includes design, panel fabrication, chemfilm/paint, insert installation
and edgefill for a component that is installation ready. The panel structures can be flat and processed in our heated
platen presses or contoured and vacuum bonded in one of our walk in ovens. We are not just limited to panels,
but fabricate build to print parts including laminates of Kevlar, Fiberglass and Carbon Fiber. We also routinely build
metal-to-metal bonded assemblies, Fiberglass/Nomex assemblies and manufacture complex laminate assemblies.
Our team is proficient working with all types of adhesives and specs. to build your bonded assembly to print. The contract
manufacturing industry is growing as manufacturers increasingly look toward a more cost effective approach to
in house assembly. For the last 34 years Advanced Custom Manufacturing has demonstrated that we can consistently
produce high quality, specification-compliant products. Our production staff is cross trained and multi-skilled to
efficiently produce small, medium or large production jobs and, able us to respond to quick turnaround requirements
in a timely matter. Advanced Custom Manufacturing has extensive "build to print" experience in a variety of assemblies
for commercial aircraft, defense and military applications that require AS9100 and ISO 9001 certifications. Operating
on SolidWorks, we can ensure safe file transfer and top notch turnaround times.
Honeycomb panel fabrication is Advanced Custom Manufacturing's base of operation and core competency. We can make virtually any panel to meet your specific requirements. Our capabilities are directed to the finished product.
Added Value